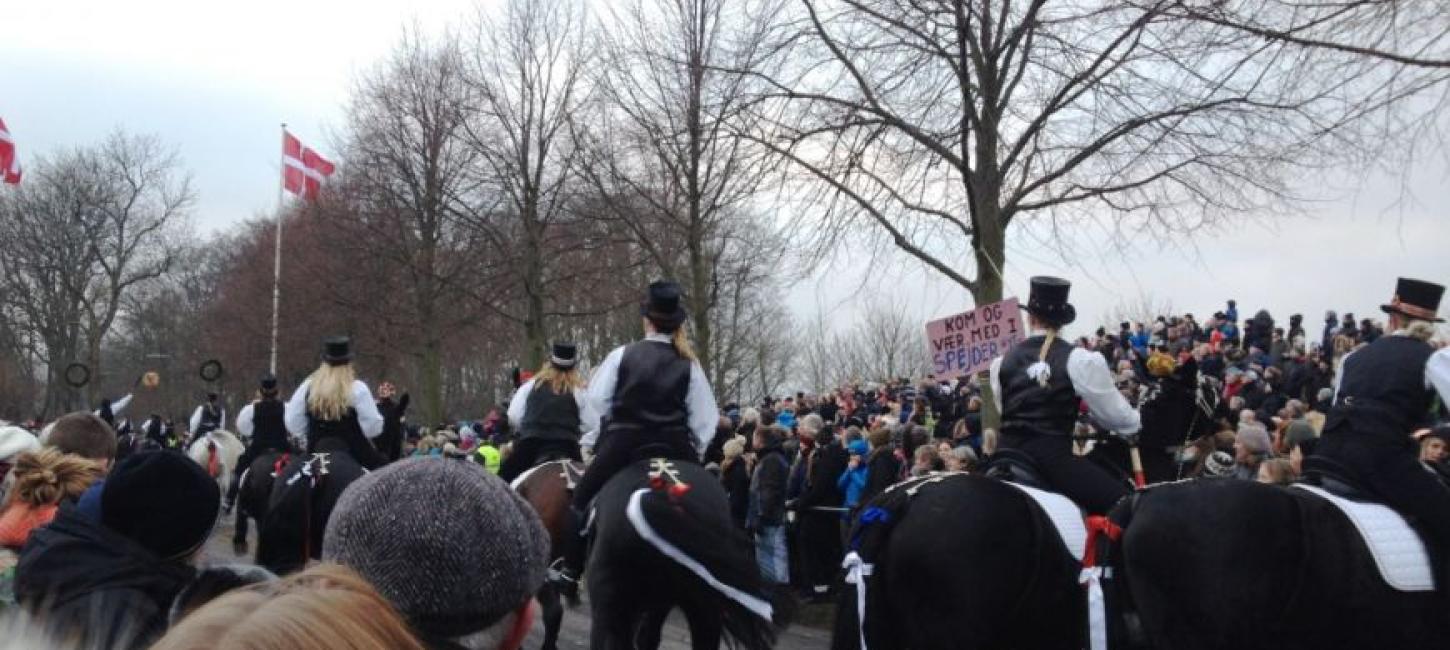 Shrovetide Feast
Shrovetide Feast is an old tradition and a great feast in Dragør and Store Magleby in southern Amager, and it is celebrated on both Shrove Sunday and Shrove Monday.
It is a beautiful sight to see all the decorated horses and riders wearing high hats, white shirts and embroidered black vests come roaring at full speed against the barrel with raised clubs – just like their ancestors have done for several generations. The Dutch introduced the tradition when they came to Amager in the 16th century – we have a sketch from a 'barrel ride' on Amager in Jacobæus' Travel Book Records from 1671.
The riders gather in the morning, on both Shrove Sunday and Shrove Monday, and with flags and a music band at the forefront they ride on a round of visits all day.
Every place they visit serves a hot rum punch for the procession that in return sings special cheers to honor their host. You are welcome to follow riders and horses around all or part of the route.
The culmination is the Knocking Down the Barrel
Shrove Sunday Procession ends at Blushøj in Dragør at 4 pm, where there are always many spectators. It is possible to buy rum punch.
When the last barrel stave is knocked down, the lucky man or woman will be awarded the title of Barrel King or Barrel Queen of the Year and will have a wreath placed around the winning horse's neck and a song along the way.
It is a good idea to get to the Knocking Down the Barrel on time - some years it only takes 20 minutes to knock the barrel down. Other years it takes almost an hour.
On Shrove Monday the Knocking Down the Barrel takes place on Main Street in Store Magleby, also at 4 pm. Amager Museum is open most of the day, serving rum punch and "æbleskiver", small, round hot cakes.
In Store Magleby there are only male riders, and the Barrel King is celebrated with the traditional toast and song in the courtyard at Amager Museum. Again, it can take anywhere from 20 minutes to an hour before the barrel is knocked down.