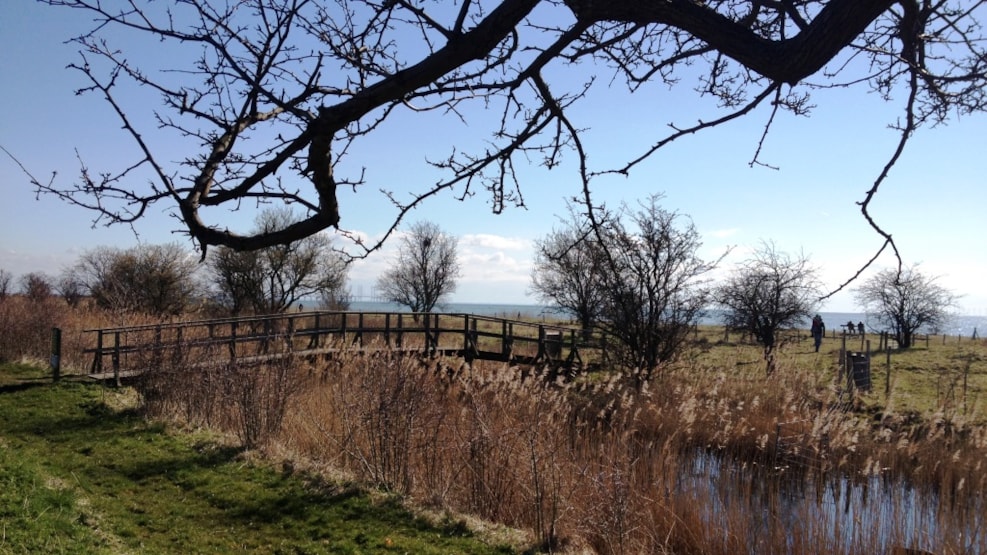 Beach Meadows
The meadows south of Dragør, which overlooks the Øresund Bridge and one of the busiest sailing routes in the world, are protected. Here is a rich bird life: fishing heron, gray geese, vibe, lead hens and black geese, and if you are lucky, you will also encounter a few of the seals.
Please note that dogs must be kept on a leash during the breeding season of the birds. Along the beach: from April 1st to October 1st. Along Søndre Strandvej: from 1 April to 15 July.
The meadows are often flooded with salt water, so you find many beach herbs, for example. beach decoration, beach eaters and beach garden, which can withstand the salty conditions.
It was on the beach meadows south of Dragør that Noma chef René Redzepi was photographed on Time Magazine's cover while sipping herbs. Remember that you must not pick protected herbs and that you only have to pick for your own consumption.
Previously, the beach meadows have had several functions.
Bleaching of textiles was a major occupation in Dragør for more than a hundred years, and bleaching took place on the beach meadows south of town: When the long canvases of the city's many weavers were to be made light and soft, they were placed in large vessels in a soda solution and then excited out on the meadows so they could bleach in the sun. 'The sun bleached by Dragør' was on small cards in show windows in the fine shops on Strøget in Copenhagen at that time.
On a summer's day, large areas were filled with bleach: Canvas lay in long stripes, reflecting the sun like snow falling in measured orbits.
From around 1930 until 1979, the beach meadows were a holiday destination for many Copenhageners. There are has been a beach establishment designed by the architect Arne Jacobsen, two campsites, a small town of small holiday homes, several bathing facilities and buildings specially erected for Gabriel Jensen Holiday excursions.
Today, only the resort, Gabriel Jensen's Holiday Excursions and the 'Sylten' cafe, the latter situated in solitary majesty in the middle of the beach meadows, testify to the booming beach life that once unfolded on the south beach.